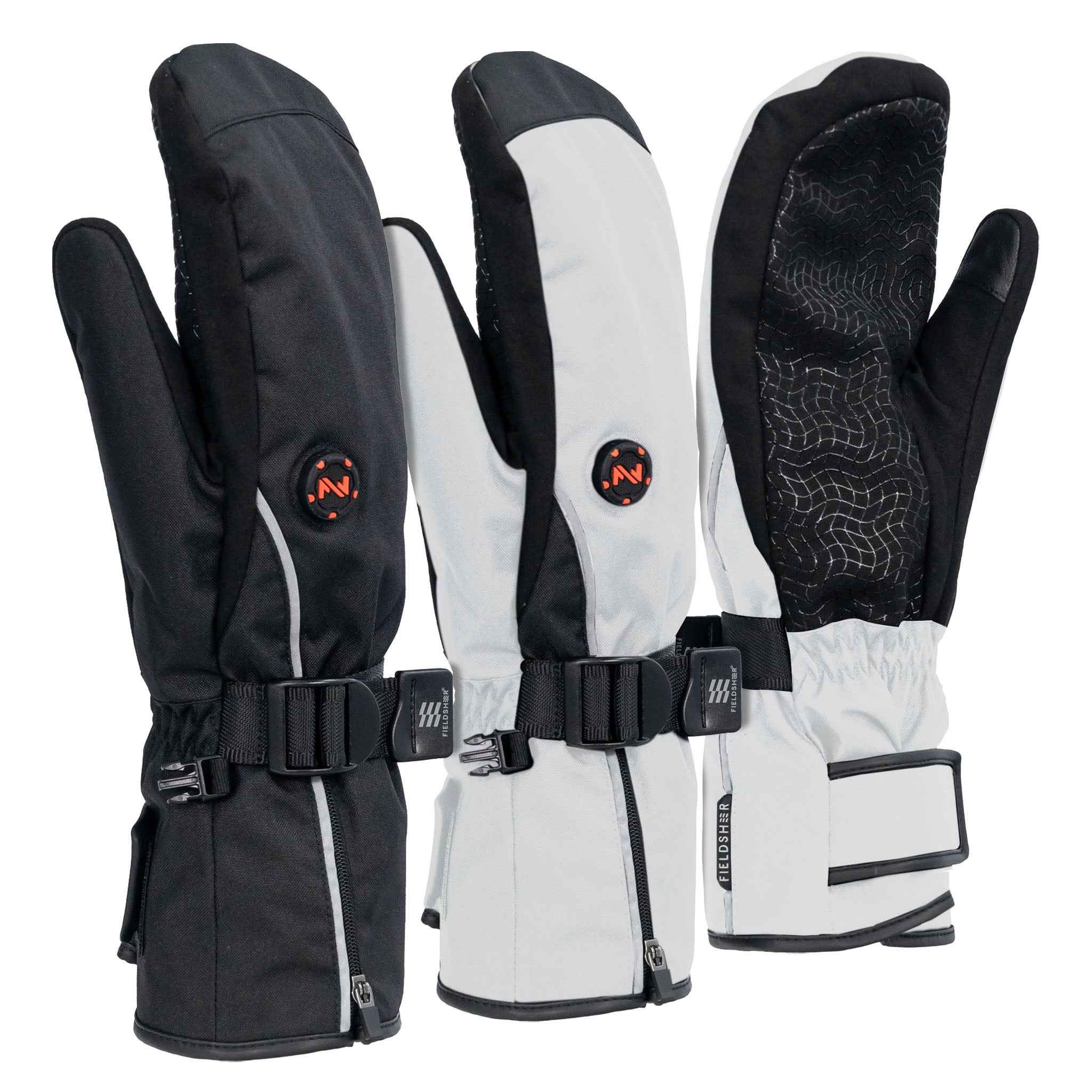 Winter can conjure up images of a cold, dark, and dreary season. But it doesn't have to be that way. There are plenty of amazing winter activities that can make the season enjoyable. Skiing down the slopes, trekking through the serene landscape, hiking, and even skating on the many frozen ponds are just a few of the beautiful winter activities that Canadians have come to love.
Heated gloves and heated glove liners are a great way to warm up your extremities and provide extra love and comfort to your exciting adventure.
Let's look at how Fieldsheer can make this possible using state-of-the-art fabrics and technology.
Embrace the Cold with the Best Heated Gloves
When the temperature drops, your hands often bear the brunt of the cold. However, with Fieldsheer's heated gloves, you can enjoy unparalleled warmth and bid farewell to frozen fingers. 
The secret is the cutting-edge Mobile Warming® technology, designed to keep your hands cozy and warm for hours. This is done through the use of a rechargeable lithium-ion battery that can route the warmth to where you need it most: delivering heat to crucial zones - right at your fingertips.
Heated Glove Liners: Versatility and Comfort
If you are looking for a more versatile and flexible option, Fieldsheer® 7.4-volt heated glove liners are there to please. The liners are ultra-thin and use the same Mobile Warming® technology that is embedded in all of our heated products. 
The 7.4-volt rechargeable lithium-ion battery can be controlled through the MW Connect® app, which uses Bluetooth to control your heat regulation. Once the battery has been fully charged, you can count on continuous warmth for up to 11 hours. This is perfect for any activity, no matter how daring and adventurous.
Overheating? The app allows you to find the perfect temperature for your comfort. If you find yourself indoors at a chalet sipping hot chocolate to fight the bitter cold, turn down your liners' temperature for a better experience.
Maximize Utility with Heated Socks
It's not just your hands that need attention during your trip. Even if you've chosen the perfect boots for hiking or trekking, it's common to experience cold feet or even have snow seep through your protective boot liner. So make sure to properly prepare and pack appropriate gear to keep your extremities warm and comfortable.
Reach for a pair of Fieldsheer's heated socks to help you stay warm and comfortable. The Mobile Warming® technology can provide up to 135 degrees F of warmth, all at your control using our Bluetooth app. The socks feature an over-the-calf design, keeping you covered where you need it most.
Worried about the smell of warm and damp socks? Worry not. Our fabric is made of antimicrobial and moisture-wicking properties, eliminating odors at their source and keeping your feet well-ventilated.
Elevate Your Winter Experience with Fieldsheer
Although winter brings many joys and adventures, it can also come with its fair share of challenges. Brutal Canadian winters can often discourage individuals from pursuing their most cherished passions. However, with the right mindset and tools, these challenges can be overcome, helping you to continue embracing all that the season has to offer.
Shop the
Fieldsheer
collections today to take advantage of the best items for your winter wardrobe. Don't let the cold stop you from living your best Canadian life!