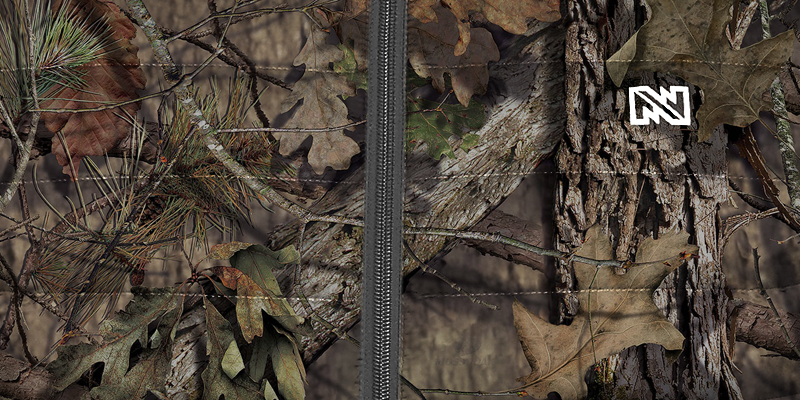 "Break-Up Country®" Design Expected to Increase Demand
For Mobile Warming Bluetooth Heated Apparel in Hunting, Outdoor Channels
SAN MARCOS, CA (June XX, 2019) – KC Bean, Chief Executive Officer of Mobile Warming®by Fieldsheer, the industry leader in heated apparel, announces a new  partnership with Mossy Oak®,America's number one designer of premier, photorealistic camouflage patterns.
Available in the new Fall 2019 Mobile Warming product line, Fieldsheer will incorporate the Mossy Oak Break-Up Country pattern, America's No. 1 Camo and the official camo of QDMA, in its new men's Summit 12v Heated Vest with Bluetooth control as well as the Phase 7.4v Heated Hoodie. The result of extensive field testing, the Break-Up Country pattern features a wide variety of elements found throughout North America. Using dramatically larger limbs, leaves, bark, branches and other digitally enhanced natural elements, Mossy Oak Break-Up Country "annihilates" the wearer's outline and fuses them with the terrain like no previous pattern – at any distance, anywhere across the country.
The Break-Up Country pattern is one of more than 25 distinct patterns of camouflage that Mossy Oak offers for a variety of outdoor environments.
"We're thrilled to have our most popular camouflage pattern associated with Mobile Warming's high-tech clothing," said Chris Paradise, Senior Vice President & Chief Sales Officer of Mossy Oak. "Mobile Warming is a highly-innovative brand with a major focus on creating a positive experience for their customers.  We are very excited to partner with them, knowing they will help us in serving our company mission to help people live their best lives outdoors."
Mobile Warming's Bluetooth integrated heating technology allows users to wirelessly select heat levels and check the battery remotely from any smart phone using the exclusive MW Connect™ mobile app, the brains behind the technology. The combination of unique materials, construction techniques, battery designs with advanced charging circuitry, and innovative heating panels results in the most advanced heated gear for many outdoor applications. 
Mobile Warming's Bluetooth technology has already created a high demand in the hunting and outdoor channels. Incorporating the Mossy Oak pattern into the garments will provide these markets with heated apparel that provides an even greater new level of style and performance.
 "Thanks to Mossy Oak, this partnership will benefit many dedicated outdoor enthusiasts, whether for the bird watchers who are on the trail before sunrise, or the hunter spending countless hours up in a tree stand," said KC Bean, CEO of Mobile Warming. "We are proud to be working with a company that is as dedicated as we are to helping people enjoying their outdoor experiences to the fullest."
With both brands building on a combined 60 plus years of garment manufacturing and innovative textile designs, this collaboration will help build a foundation for providing premium comfort and functionality to one of the largest demographics of outdoor enthusiast.